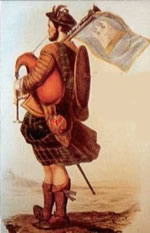 Speciality foods and drink on Royal Deeside
Shortbread and Biscuits
Welcome to George Strachan Ltd Royal Deeside
We invite you to take a look around our shops, see one of the finest collections of malts in the North East of Scotland and browse through our selection of over 500 miniatures We have at least 30 different cheeses at the Deli counter and we stock many fine Scottish speciality foods



Walkers
Aberlour
Using only the finest ingredients and with no trace of an artificial additive, colouring, flavouring or preservative, our shortbreads are made, as ever, in the time-honoured way, just as our founder, Joseph Walker, would have had it. In fact, just the way we've been baking in the little Highland village of Aberlour for over 100 years
Dean's
Huntly

Dean's prides itself in using time-honoured hand crafted baking methods. First baking shortbread for family and friends, then in support of the Huntly Pipe Band. This family run business still hand-bakes like Helen did in her original recipe.

John Smith
Stromness Orkney
John Smith Traditional Scottish Shortbread products are all handmade top quality products, distributed by Stockan & Gardens.
Land of Macbeth Biscuits
Forres

Scottish Shortbread is famed worldwide and comes in all shapes and sizes, tastes and textures.
The Maclean family has always preferred a recipe which gives a rich, yet semi - sweet taste, complimented by a natural crumbly texture.
Simmers Abernethy Biscuits
Edinburgh
Rich, golden biscuits...a traditional Scottish favourite
Border Biscuits
Lanark
A family owned business, part of our legacy is that we have a collection of such recipes: all original. It is these family secrets that have been winning us our unique reputation and quite a few awards over the last 20 years, culminating in the Biscuit World Cup 2003
Duncans of Deeside
Finzean
On a farm, near the village of Finzean, on an old Highland estate. The Duncan family proudly continues the tradition of making hand-baked Scottish Shortbread. The Duncans are dedicated to the art of baking avoiding at all costs, mass production, every batch is personally supervised using only the finest ingredients scrupulously following a traditional recipe.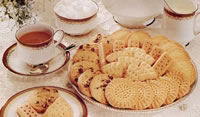 Tilquhillie
Banchory

Tilquhillie puddings are all based on Scottish oats and are suitable for Vegetarian Diets. They contain no artificial additives or preservatives and are GM free.
They can be re-heated by traditional steaming, or microwave cooking, in their red basins.

Alex Dalgetty & Sons

The Scotch Black Bun, Selkirk Bannock & Clootie Dumpling